---
Youth Program
Nineteen years ago the church council of Grace adopted a mission statement that included a specific clause about youth ministry. Six years ago the mission statement was rewritten that again included a clause about youth ministry. We desire growth as an inclusive intergenerational family; we resolve to support a strong youth ministry. It is important to Grace Lutheran Church and the community of Culver City that we carry on a successful youth group.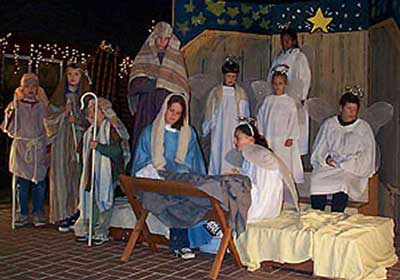 The youth group has a model verse for our youth ministry, from Luke 2:52 - Jesus became wise, and he grew strong. God was pleased with him and so were the people. We hope our young people mature as Jesus did, he grow intellectually, physically, spiritually and socially.
At Grace we have many opportunities for Middle School, High School and College students:
TAG Performing Arts Club - Thursdays, 3:30 in the choir room. 4th grade through high-school perform contemporary praise music in small groups or solos for church service. Will also be working on the spring musical "The Lion, The Witch & The Wardrobe."
Confirmation - 6th to 8th grade kids explore their faith in this lively class of education, fun and fellowship. Tuesdays at 3:15.
Afterschool Studies - Monday through Thursday, after school until 5:30pm in the Fireside Room. All students are welcome to read, write, study and just hang out. Computers with Internet and basic school supplies are available for use.
Friday Night Kick Back - Dinner, Bible study, and awesome instruments group. All youth ages high school through freshman college are invited. Fridays from 6:30-8:30 in the Fireside Room.
In addition, the youth are included in service projects for local and international needs such as raising funds for hunger programs, community walks, and congregational work days and support.
e-mail: graceculver@sbcglobal.net
---
Loving Teens

From the book "The Five Love Languages of Teenagers" by Gary Chapman there is a chapter that deals with the failures of teenagers. He talks about the difficulty dealing with teens when they fail, failure to meet parental expectations or their own moral failure.

He states "good parenting is doing the right thing when a child does the wrong thing." Remember to love the child and not the failure. From Proverbs 12:1 "Whoever loves discipline loves knowledge, but those who hate to be rebuked are stupid." We all need to learn and gain knowledge, even if it takes a lifetime.
Our youth need our time, words of praise, lots of hugs, time spent in service together, and our prayers. God please be with our teens and help them to make good decisions and the right choices. Amen